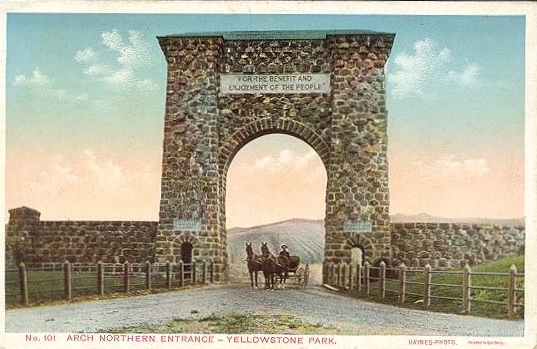 On our way again after a night of Surprises & wonderful experiences. After riding for a few hours thru plenty of Mts. with 2 engines pulling our train, we finally arrived at Gardner, the North Gate to Yellowstone Park. The town was very small but nice.
There we unloaded the trains, got on trucks and we started for the Camp. We rode up Mts. like I never seen before, valleys, cliffs, canyons, falls, volcanoes, everything was very pretty. Every once in a while we would see a bear or elk and many other animals. Everything was new to us. Then we passed the Grand Canyon. I stood amazed at first. It was so deep and the rock was all colored and there were large water falls twice as high as Niagara Falls. We were on our way again up the mountains. The higher we got, the colder it got. We almost froze before we reached the camp, which was 54 miles away from the North Gate. What a hike. Everything seemed pretty tough the first day. The eats were not ready and everybody was disgusted.
There was plenty of snow all around the place. It was cold at night. The next day we were still disgusted, but after walking around and looking the place over, I changed my mind and made up my mind to like the place and I certainly liked it after that. Most of my friends were always crying. They wanted to go home and they never were satisfied until they got sent home and it was a pleasure to get rid of them.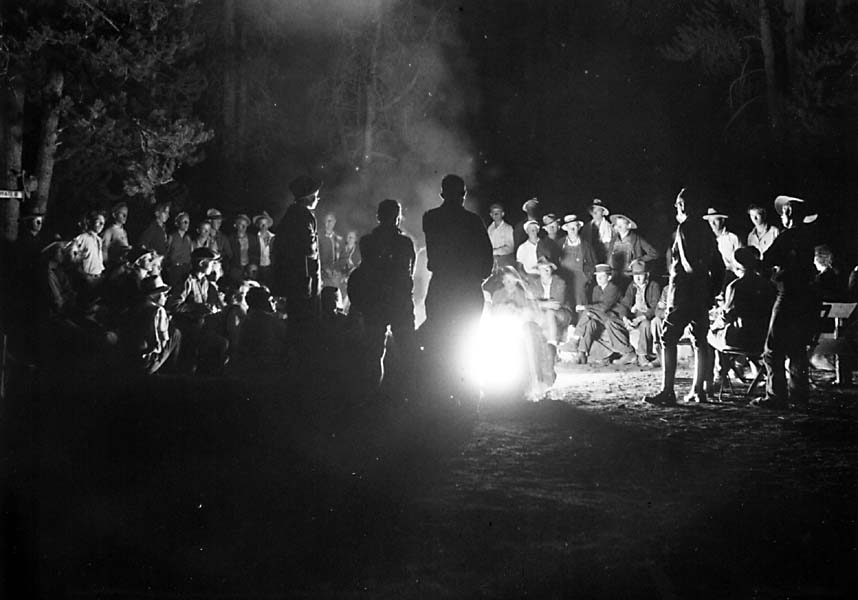 We used to go walking around and exploring the mountains, the small tourist camps, and camp fire meetings the rangers used to give every night. They used to have entertainment and lectures every night and all the tourists used to come and they were very sociable and we got along very nice with them, especially one girl I met at the lake whose name was Sally. She came from Idaho and I had plenty of fun with her.